St. Louis Osuwa Taiko is a community-driven ensemble that celebrates the Japanese art of taiko through education and performance.
Grandmaster Daihachi Oguchi formed the original Osuwa Daiko in Suwa, Japan, in 1951. In 1986, Oguchi-sensei visited St. Louis (sister city of Suwa) to found St. Louis Osuwa Taiko. A year later, he donated drums. St. Louis Osuwa Taiko started out as a kids' group but has evolved to a nonprofit organization devoted to sharing taiko throughout Missouri and elsewhere through year-round performances, workshops and classes for children, adults, and seniors.
We also continue to build on our ties to Osuwa Daiko. We visited Suwa, Japan, in 2009 to play and study taiko and hosted Osuwa Daiko for a joint show in 2011 in St. Louis to celebrate the 25th anniversary of St. Louis Osuwa Taiko. We believe in preserving and fostering our sister-city relationship with Osuwa Daiko and Suwa, Japan, and acting as cultural ambassadors by introducing new audiences to taiko.
Our largest show each year is at the Japanese Festival at the Missouri Botanical Garden on Labor Day weekend. Thousands attend the festival, which has fun activities for all ages, including the Dashi procession, where children pull our Dashi, or portable drum stage on wheels, through the garden.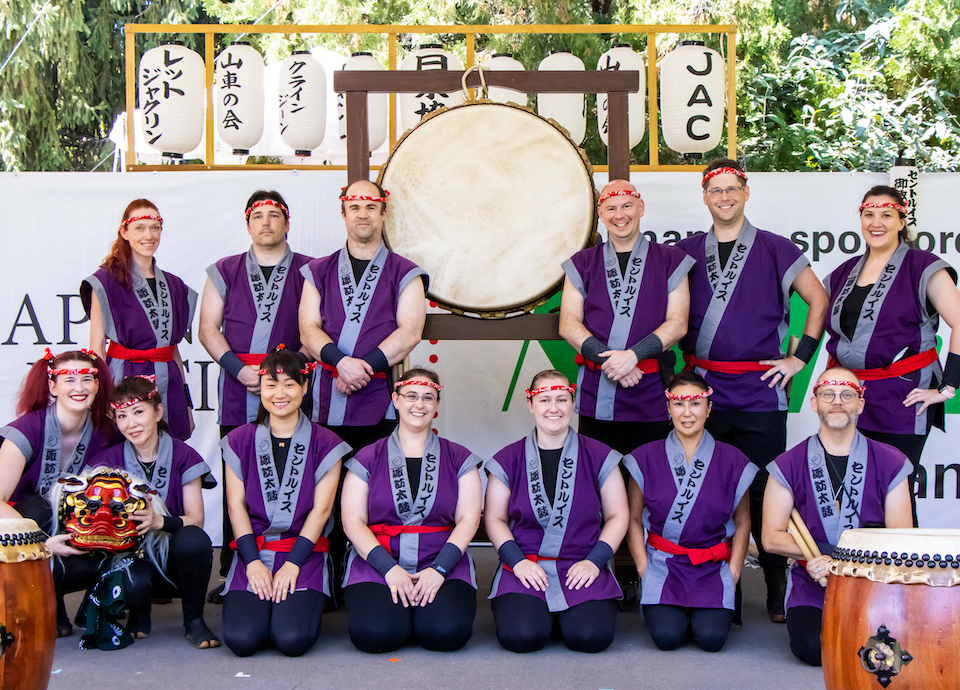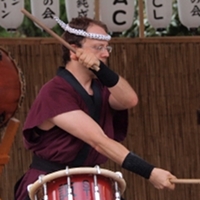 Andrew
Started 1998-09-01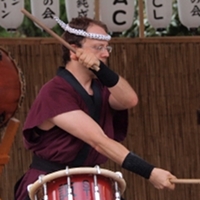 Andrew
Started 1998-09-01
Andrew
Andrew began playing taiko in 1998 with St. Louis Osuwa Taiko under the tutelage of Joe Kimura. He took over as a director of the group in 2001 and has been playing ever since. He has taken workshops with all the big names: Taiko Center of the Pacific, TAIKOPROJECT, San Jose Taiko, Kaoru Watanabe of Kodo, Tiffany Tamaribuchi, and many more. Andrew has written five and a half original taiko pieces for St. Louis Osuwa Taiko: Kaifuu, Juugoya, Sumo in St. Louis, Rhythm Sandwich, Ibuki, and Sen no Kodama. Hopefully many more are to come. In addition to taiko, Andrew likes to mess around with the doumbek, Jew's harp, didgeridoo, and clarinet... sometimes with Mosaic, a Turkish-themed band. His other interests include Argentine tango, yoga, table tennis, snow skiing, linguistics, Japanese calligraphy, and wishing he had time to do more of that stuff.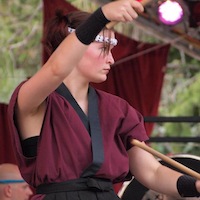 Helena
Started 2004-12-14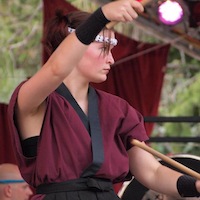 Helena
Started 2004-12-14
Helena
Helena started playing taiko in her sophomore year in college at WashU. She started music and performing when she was a small child and enjoys taiko for its dynamics and intensity. She spends her non-taiko time writing software, making jewelry and clothing, and being a huge nerd.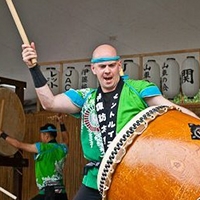 Eddie
Started 2006-12-19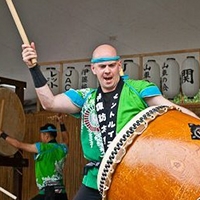 Eddie
Started 2006-12-19
Eddie
Eddie loves playing taiko and loves his taiko family.
Eddie Joined SLOT in 2006 as a performing member. In 2013 he and his family moved to Singapore and played casual taiko there. In 2017 he moved back to and got right back into the mix. Eddie enjoys the fully body workout taiko can give you and all of the tremendous opportunity it provides.
Since joining taiko, he's grown as a person and is a lot more outgoing in general.
Life without taiko would be pretty dull. And quiet.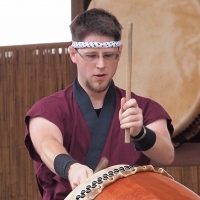 Jason
Started 2009-12-14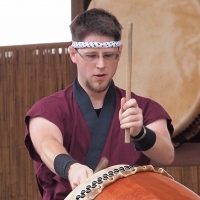 Jason
Started 2009-12-14
Jason
Jason has been playing Taiko since 2009, and percussion since 1996. His favorite songs include Juugoya, Sumo, and Tsurugi.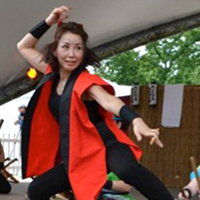 Hitomi
Started 2010-12-21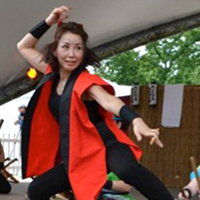 Hitomi
Started 2010-12-21
Hitomi
In 2010 Hitomi moved to St. Louis from Japan and is currently teaching Japanese.
Growing up, she always dreamt of learning taiko, and she even grew up near a taiko shop. It wasn't until she moved to St. Louis that she was able to achieve that dream.
Her life in St. Louis is much different from her life in Tokyo, but she is adjusting and having a lot of fun. She now considers St. Louis as her second hometown. Her driving skills are improving everyday as are her taiko skills.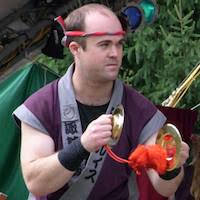 Jeremy
Started 2010-12-21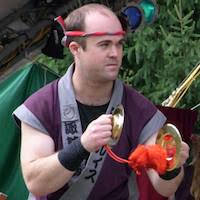 Jeremy
Started 2010-12-21
Jeremy
Jeremy started playing drumset in 1995 and studied Okinawan karate from 1992 to 2002. He first experienced taiko in 1995 when San Jose Taiko came to perform at the Japanese Festival in St. Louis. Taiko's combination of percussion and choreography left an immediate and lasting impression on him. In 2010, he finally decided to give taiko a try when beginner classes were announced during a St. Louis Osuwa Taiko performance. He's been hooked ever since!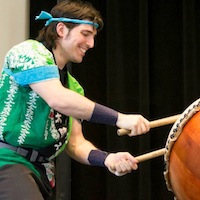 Joel
Started 2012-10-02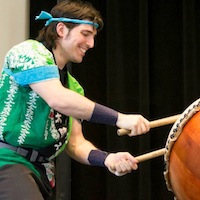 Joel
Started 2012-10-02
Joel
Joel's adventures in percussion began in high school when some friends needed a drummer and he had access to a drum set. In college, he began studying Chinese martial arts which led to performing in lion dance troupes. Joel has performed in lions, choreographed dances, and composed and played percussion pieces. Through the years he could hear the Siren of taiko beckoning, and after a year in the community group, became a performance group member. Joel loves the blend of physical and mental discipline that taiko requires, the cohesiveness between players formed by kumi-daiko and the emotional spectrum that can be created.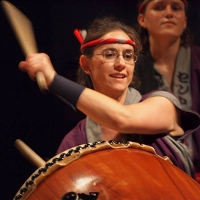 Theresa
Started 2012-10-02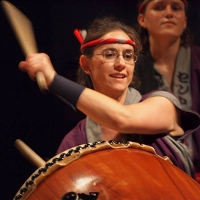 Theresa
Started 2012-10-02
Theresa
Having admired St. Louis Osuwa Taiko at the Japanese Festival for many years, Theresa finally worked up the courage to take the Beginners class in the Fall of 2011. She was hooked on taiko from the very first lesson. After spending a year with the Community Group, Theresa became a full-fledged performance group member! Her previous musical background was limited to relatively immobile instruments - piano and voice - so she finds that it has been a challenge making the switch to the physical and percussive demands of taiko. Outside of taiko, Theresa enjoys quieter activities such as digital scrapbooking, nature photography, cooking, satisfying her sweet tooth, and getting lost in a good book.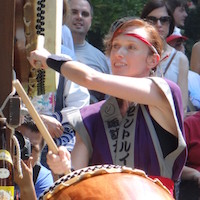 Heather
Started 2015-04-03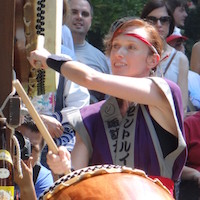 Heather
Started 2015-04-03
Heather
Heather first experienced taiko in 2012 and was immediately hooked by the energy and excitement. After about a year in the Community Group, she joined the performing group and is loving it! Outside of taiko, Heather enjoys hiking and bicycling, photography and cooking tasty food.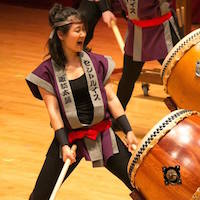 Mana
Started 2015-11-05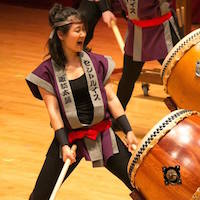 Mana
Started 2015-11-05
Mana
Mana is from Hong Kong and Japan. Her earliest encounter with taiko's addictive rhythms was at the Japanese International School in Hong Kong, where she was a taiken nyūgaku-sei (visiting student) every summer. She was excited to encounter taiko again in 2006, when she attended university in the US. Her collegiate group, Gendo Taiko, was where she first reflected on the evolving history of the art form in Japan and its diasporas. She has since performed with Ondekoza, Hong Kong O•Daiko, and now St. Louis Osuwa Taiko. She loves taiko's visceral intensity, and its capacity to form tight, lively communities. Beyond taiko, Mana enjoys teaching, dancing, watching movies, tending to plants, and trying new recipes.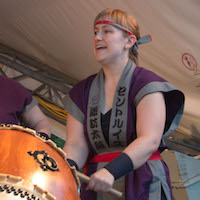 Katie
Started 2016-01-01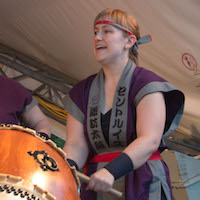 Katie
Started 2016-01-01
Katie
Katie first learned about taiko while practicing Shinkendo, a Japanese sword martial art, in her native Iowa. It wasn't until she moved to St. Louis, however, that she experienced taiko live for the first time at the Japanese Festival. The energy of the show was so infectious that she knew she had to try it! She signed up for St. Louis Osuwa Taiko's beginner's class in summer of 2014 and the rest is history. Katie's other musical pursuits include singing, clarinet, and pretending to play tenor sax. She also enjoys reading, watching TV, doing cross-stitch, bar trivia nights, and spending time with her two cats.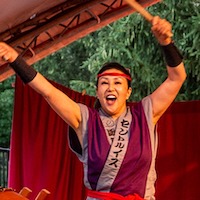 Rieko
Started 2018-01-21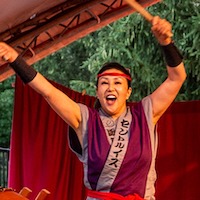 Rieko
Started 2018-01-21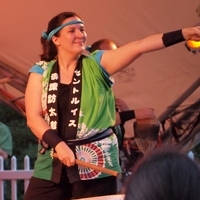 Jenn
Started 2021-05-17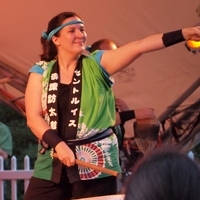 Jenn
Started 2021-05-17
Jenn
The very first time Jenn heard, and more importantly, felt the powerful sound of taiko drumming, she knew it was an instrument and art form she had to learn. Luckily, St. Louis Osuwa Taiko offers classes! Her first lesson was in September 2007 and playing taiko has remained an important part of her life ever since.